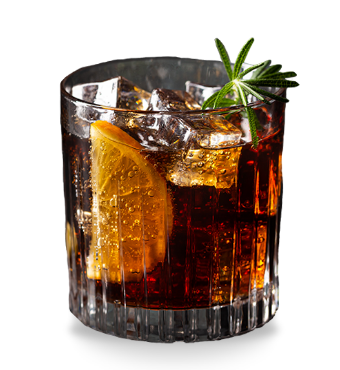 1/2 cup honey
1/2 cup water
2 fresh sprigs of rosemary
2 ounces Zachary Edward Bourbon Whiskey
1 ounce Rosemary Honey Syrup
2-3 dashes Angostura bitters
Ice
1 orange peel
1 Rosemary sprig
Combine water and honey in a small saucepan over medium-high heat and stir to dissolve honey.
Add two rosemary sprigs to the saucepan. Stir gently, trying to lightly crush rosemary without breaking the leaves off of the stem.
Bring water, honey and rosemary to a boil, and then reduce heat to maintain a gentle simmer.
Reduce liquid by about half (roughly 10-20 minutes).
Remove from the heat, and set aside to cool to room temperature. Rosemary Honey Syrup can be made ahead and kept the refrigerator for about a week.
Add the bourbon, rosemary honey syrup and bitters to a cocktail shaker.
Fill cocktail shaker with ice, cover, and shake until the outside of the shaker is quite cool (roughly
20 seconds).
Pour the mixture into an old-fashioned or rocks glass, with or without ice, and garnish with the
remaining sprig of rosemary orange peel.